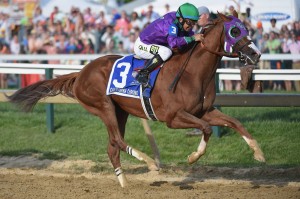 Because I Am Desperate for Inspiration
My family loaded in the car and drove to the pizza place so we could watch a horse. (We don't have cable, and can't get reception for any channel in our humble country home.) A $10,000 horse who had won both the Kentucky Derby and the Preakness and was striving for the coveted Triple Crown. Other people strolled in, hoping to watch horse racing history. It would have been the first horse from California, the oldest jockey and oldest trainer to ever win all three races.
We were breathless with anticipation. And when California Chrome came short we were quiet. The winning jockey was so gracious, "I am glad I won. But if I was going to lose, I wanted to lose to him."
Even though he lost, it is still a great story, and as the records were broken for most money bet on a horse and attendance in the park there was an unspoken camaraderie weaving us together. We want to be inspired. 
I am not the only one whose heart longs to cheer on excellence and victory.
We loaded back into the car, after eating too much and yelling too loud, and not long after I got home, I came across this:
John Meis
On Thursday a gunman came into Seattle Pacific University, longing to kill others and himself and make sure his name would be remembered. He shot three people and started to reload. At the precise moment of perfection, John Meis, a devout Christian, engineering student and part time security guard, pulled out his pepper spray, sprayed the gunman and put him in a choke hold. How many lives did he save?
John Meis, shaken and teary, was taken to the hospital and released.
His name was not released.
But the the internet found him out.
And discovered that 15 days from the day of the shooting, he was getting married.
People took to Twitter and within hours, every single item on every registry they had was purchased. A TV producer in Seattle wanted to do something, so she began a gofundme.com account to raise $5,000 for Meis' honeymoon.
Last I checked, over $30,000 had been raised.
Because many of us are desperate for inspiration.
And today, thanks to California Chrome and John Meis, I am reminded that inspiration is all around if I just open my eyes to see it. May Brighten A Corner continue to be inspired to do exactly what God has created us to do.