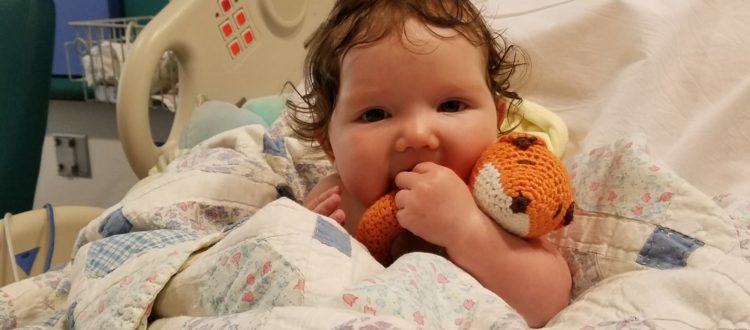 Abigail Joy and Family Update:
We did get the house ready for the family's homecoming. And by all reports they love all the work and touches done by the volunteers. But sadly their journey is turning out to be a long one. Abigail has been in and out of the hospital for months now.
This is a recent update on Abigail from March 2017:
Good day to you my loved ones. I hope you and your's are well. My family and I are still in the hospital for over a month now. We thought I was going home on some low oxygen treatment but my cardiologist is against it so we stayed to trial off the oxygen to see how it would effect me. Just as always, after a few days off oxygen, I started having tummy problems vomiting my milk and eventually the coffee grounds (partially digested blood). To make short of our current dilema, the doctors have no answers for why I am vomiting and especially why there is coffee grounds. They will not let me even try low level oxygen treatment and want to send me home. In fact they have wanted to send us home for a week now. My mommy and daddy don't want to go home and just have this all happen again. The doctors don't have a diagnosis or treatment but they are continuing to recommend a gj tube. This is a feeding port that is put through my tummy skin into my stomach and has two tubes; one to my stomach and one two my intestines. This would alow mommy and daddy to give me feeds in my intestines if I am throwing up food from my tummy. It would basically keep us out of the hospital because of feeding issues. This would in no way treat my tummy problems and it would add another procedure and the risks involved, to my already long list. We are in prayer and we need you to partner with us right now to be lead by the Holy Spirit for our decision. Glory to God and love to you all. Talk to you later.
For wisdom is protection just as money is protection, But the advantage of knowledge is that wisdom preserves the lives of its possessors.
Ecclesiastes 7:12 NASB
If you want to follow Abigail's story, here is her facebook page: https://www.facebook.com/AbigailJoysHeart/
There is a GoFundMe page set up to help the family through this time. Please help if you can by DONATING HERE.