Donation Goal For This Project is
$15,000
Donate Now
Thank you for giving Jared the best Prom ever!
It was a magical night. So many thanks to send, which we will. Watch the video below for a recap on the night!
KSBY.com | San Luis Obispo and Santa Barbara Area News
Prom Photos are here!
If you went to the prom you are here! Click Here to see all the photos. Thank you Dana Hartman Hodgkinson with Blessed Beyond Belief Photography for coordinating all the photographers and for loading up all these beautiful photos. Special thank yous to these photographers for spending the day and evening with Jared and all 650 of his closest friends! Andrea De Anda Photography, Danielle Nunes Photography, Lyz Villa Photography, Valerie McGill Photography and Blessed Beyond Belief Photography.
WHEN: May 27, 6:30 to 12 Midnight. The dance ends at 11pm – the after-party continues to 12.
WHAT: Dinner, Dance, After-Party with surprises! No need to go to dinner before hand – there will be lots of food!
WHERE: Mountainbrook Church | 1775 Calle Joaquin, San Luis Obispo, CA 93405 | MAP
The money from ticket sales goes directly to the Springer family.
In order to bless them even more, we will be offering 125 dance and after party tickets. Ticket holders may attend from 8:30 pm until the fun is over. Tickets will be on sale at the Arroyo Grande High School campus Wednesday, and online Wednesday evening beginning at 9:00 pm.
THESE TICKETS WILL BE $20 EACH! Again, we are opening up more tickets as a way to bless the family. This is going to be a phenomenal event, well worth providing this extra blessing…we are counting on a spirit of generosity to continue flourishing in the remaining days.
We are thrilled with the enthusiasm and were never planning on having more than 500 kids at the prom, but this opportunity to be generous to the family has caused us to reconsider.
For those of you fortunate enough to get the first batch of tickets, consider donating $15 to the Springer's GOFUNDME page. How GREAT would that be? https://www.gofundme.com/fj3st4
In the meantime, if you can give funds, donate your time, donate special services please contact us at one of the links below. Let's host the best prom ever!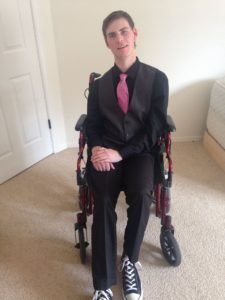 Donate Today
Background on the story:
Curious what all this is about?
Here is the first Facebook post that told of the story by Jared's dad:
https://www.facebook.com/frank.c.springer/posts/10206600523911884
You can also follow the story on our Facebook page: https://www.facebook.com/BrightenACorner/
What do we need?
Here is a list of how you can help. We need volunteers that will work in specific teams. And we still are looking for donations of specific items. Here we go!
Volunteer Teams
You can sign up for these teams using the form below:
Decor/Set Up Crew | Friday Morning, May 27th | 20 – 25 people
This will involve setting up tables and chairs for the dinner, helping with all areas of prep for the event that day. Includes setting up the theme and all decor for the event with lots of help from Epic Entertainment.
Craft Team – would start now 
We have ideas for the theme but need all our crafters and creatives to come give it life. This will involves table centerpieces and decor elements throughout. Looking for fresh flower donations we can use.
Candy Table/Bakery Team
We want to have a huge candy bar that also includes cupcakes and baked goods. Sign up to bring something yummy!
Food Servers, Friday late afternoon, evening (30 people)
We will be providing the students with a sit down family style dinner. Will need servers to help with food set up, delivery, clean up.
After-Party Set up (15 people)
During prom we need a separate crew to set up the outside After Party area. Will include some seating, trash cans, guidance for various food and entertainment vendors.
Clean up Crew (25 people), Friday Night, 10:30pm to 1am
After a fabulous and exhausting night, we would love a fresh team to come tear down and clean up after the event. This will last from 10:30pm to 1am.
Products and Services Still Needed
Flowers, and floral decor
Tiny Lights for decor in the venue (donated – these will not get back to you 🙂  )
Candy
Baked Goods
Photographers and Videographers – email Stephanie direct and she will contact you directly.
Food Truck Vendors
Cases of Water
Trash bags
[caldera_form id="CF57323fdf0c9b6″]